Telling a story is about human exchange, narratives binding us together, and the value of something we never seem to quantify – the story of our lives. The purpose of this social art project is to help people feel connected to the rest of humanity. Stories are unrehearsed, honest, and often beautiful. Story collecting takes place at random times and locations but check back for updates and posts about where it might be.
History of Portrait for a Story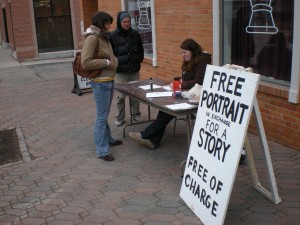 The project began in 2008 as a Senior Thesis Exhibition at Alfred University. The show included live, filmed drawing. The filmed drawings were projected onto a gallery wall so viewers could watch the process. Transcribed stories and portraits were put together into a self-published book.
The project was re-enacted in Baltimore, MD for one week in the summer of 2008. Stories ranging from a man who robbed a McDonalds and went to jail for it – to a woman who remembers eating her first gumball as a child were collected. Unfortunately, in 2009 my car was broken into and these audio recordings were stolen.
In 2013 the project was revived in Somerville, MA. A collection of food-related stories was published in a local cookbook. Find that book at Nibble: Exploring Food, Art and Culture in Union Square-and beyond!
That year a similar project was started called Sex is Awkward. The project documents real awkward sexual encounters and illustrates them in comic book form.
In 2014 the project returned to it's roots and new stories are being collected on the street. These have been collected in Somerville, MA during Somerville Open Studios and in Cambridge, MA during River Fest.
The project plans to continue adding more locations and stories in 2015.
For more information about Meagan O'Brien visit her website.